Side sliding garage door – Vertico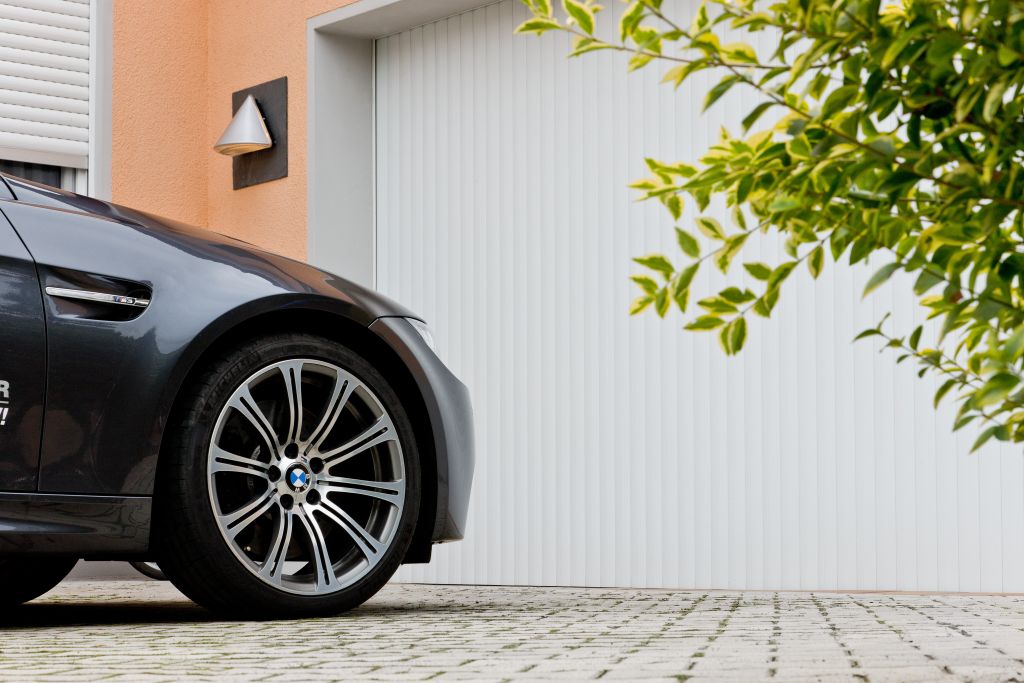 The variable garage door made of corrosion-resistant aluminium is making a name for itself primarily due to its tremendous flexibility. This is because it can be adjusted to almost all structural conditions and, in the double garage version, can even cope with very large door widths. As a single side sliding door, it is simply guided along one of the garage walls via mounted rollers. This eliminates the need for a storage box.
The ceiling thus remains completely free and can be used as storage space. And the free ceiling is also a distinct advantage for parking particularly tall vehicles. There are no door struts on the other side walls, so you can easily attach shelves and store other equipment there.
But the practical use is not the only important consideration. Another is our quality promise, thanks to which you will enjoy your selected product for years to come. Vertico garage doors are not only manufactured according to current standards and are therefore TÜV-certified, but also bear the "Made in Germany" label.

Why is a side sliding door from Alulux a worthwhile investment?
Vertico offers a wide range of installation options. Thanks to its vertical profile arrangement, it boasts extraordinary surface stability and can withstand strong winds or severe weather. Lateral retraction means that the door does not swing outward. This means that the entire space in front of the garage can be used at any time.
The integrated door and gate effect is also very practical for everyday use: The two programmable opening widths allow the door curtain to be opened halfway or completely at the touch of a button. Numerous design options and a palette of 12 standard colours allow you to ideally match the side sliding door to the look of your house or even make a bold statement.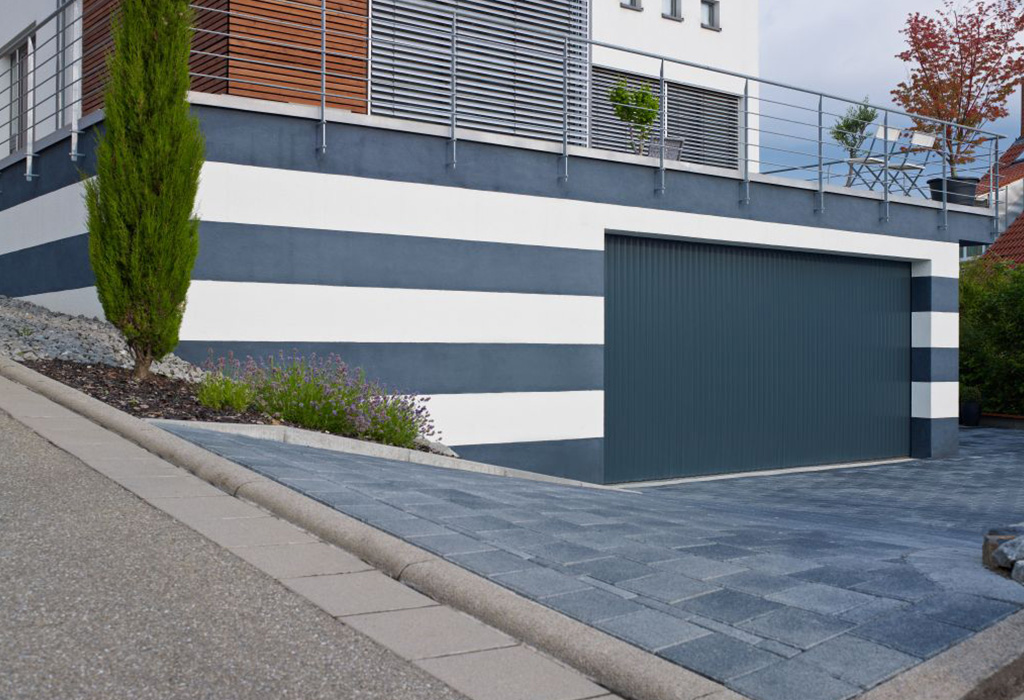 In what sizes is the Vertico side sliding door available?
Since every garage has different dimensions and requirements, Vertico is manufactured for you, accurate to the millimetre. The door surface, consisting of single slats, requires a lateral turning radius of 13 cm. In the lintel area, on the other hand, a space of just 5 cm is sufficient for mounting the guide rails.
If you use a single door, it can cover an opening width of up to 562 cm while still maintaining its stability. If you use two converging doors instead, a total door width of 11 metres is possible. You can choose between 75° and 105° versions as needed.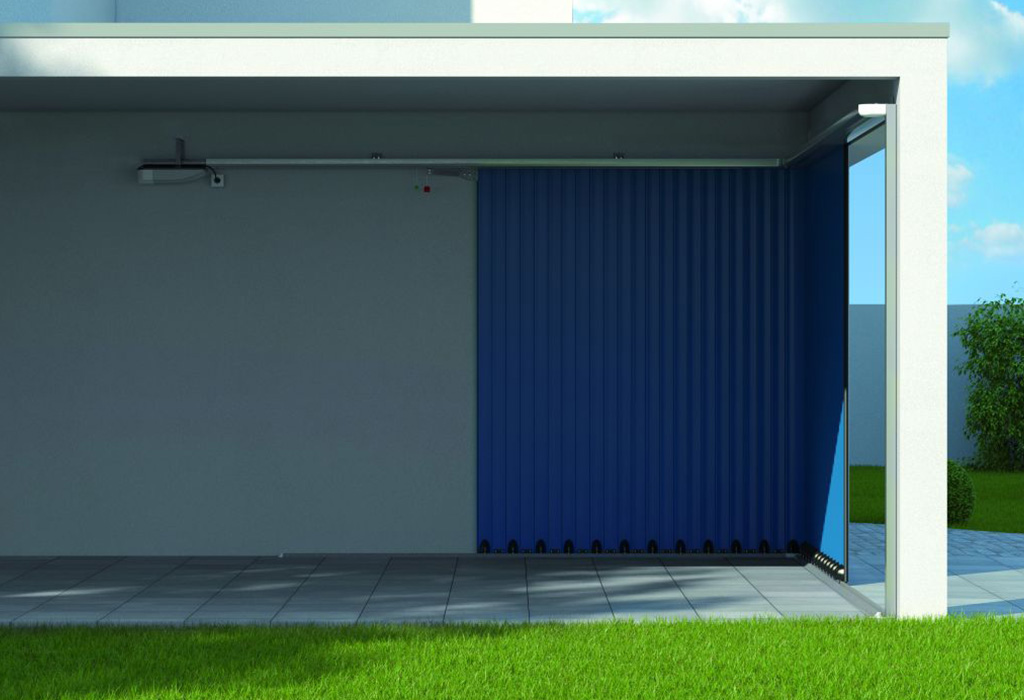 What equipment is standard?
Vertico is manufactured as standard with an electric motor with a built-in anti-opening lock. The wireless remote control with two programmable opening widths is also included. In addition to the quiet running system (LLS), the modern soft-closing function ensures that the door runs very gently and with little noise.
The interior and entrance lighting of the garage are controlled automatically via the locking system, without you having to operate additional switches. The curtain terminates in an end bar including a 22 mm bulb seal to provide reliable protection. The complete system is supplemented by a sensor-operated obstacle detection system for additional safety in the entrance area.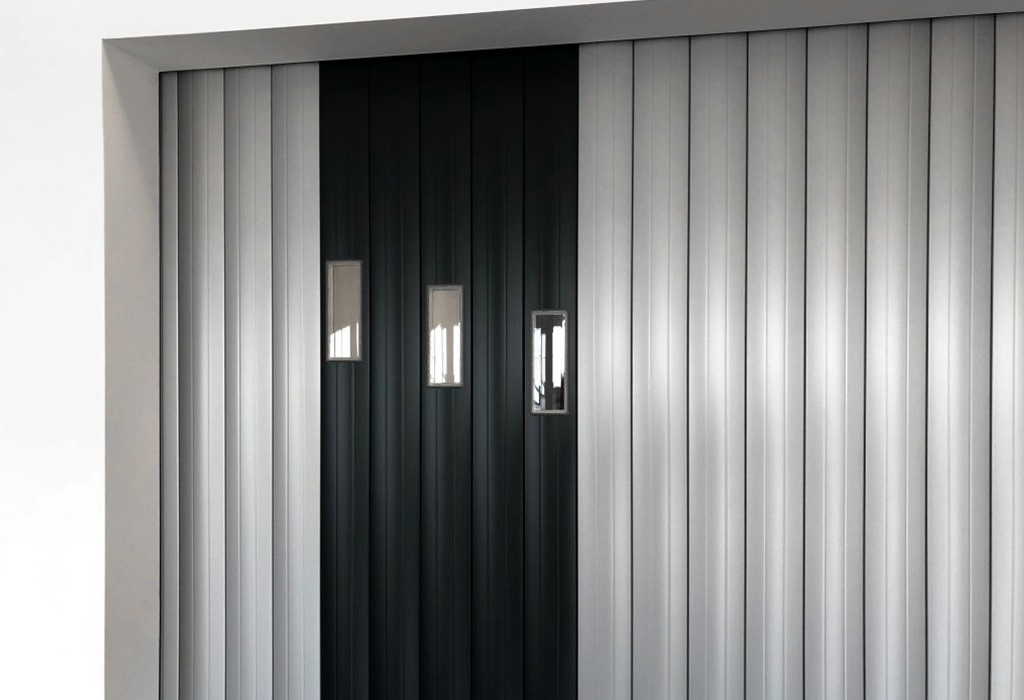 Which optional equipment enhances the convenience of the side sliding door?
Our side sliding garage doors can also be equipped with a window profile. The garage is then not solely dependent on electric lighting and you can house plants in it for the winter.
Another plus is emergency unlocking from inside and outside. Numeric keypads as well as other accessories for expanding the keypads and transmitters are available.