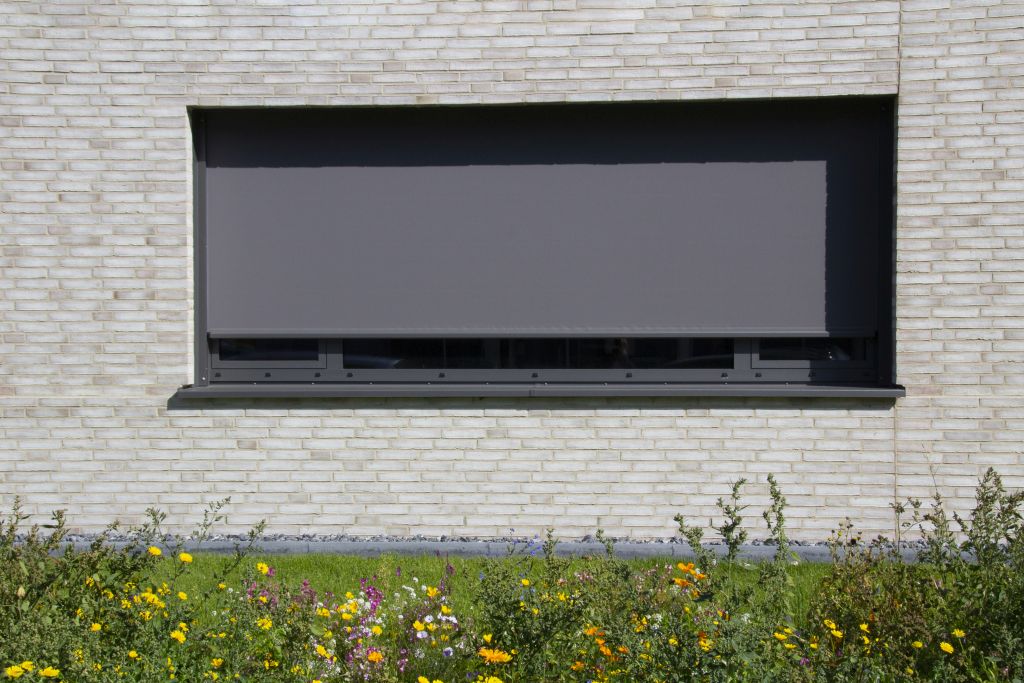 As a homeowner, you rightly impose high demands on sun protection for your entire home. You can meet and even surpass them with premium-quality fabric screens from Alulux, because they combine outstanding functional features with a distinctive look, precision workmanship, innovative technology and the use of select, quality fabrics.
The fabric has several advantageous properties: It is lightweight, amazingly durable and highly resistant to the effects of water and frost. Its semi-transparent structure reliably protects against bright sunlight, which can be unpleasant, and not just for your family: Over time it can fade your furniture and damage indoor plants.
But the fabric can do more: It lets you see outside, but totally blocks the view of inquisitive neighbours. Your privacy is protected and the subdued light gives your rooms in a warm, comfortable ambience.
What's more, the screens actively protect your windows against the effects of weather. The entire system is highly stable and resists even strong winds thanks to the clever zip technology that lends the side guide system the necessary flexibility. In fact, fabric screens frequently are referred to as "zipscreens".
What kinds of windows are fabric screens suitable for?
Fabric screens are a good choice wherever you would like to have flexibility in protecting your rooms against sun and the associated heat gain, because the taut fabric prevents UV rays from hitting your window panes directly, while still letting in natural daylight.
Fabric screens were not an option for a long time for completely blacking out rooms, which is why roller shutters or Venetian blinds formerly were the more common choice for bedrooms. But this problem has since been resolved by the Blackout collection made of fully opaque material. Fabric screens can also make a major contribution to improving your home's energy efficiency.
Even very large windows can be enhanced with zipscreens. Whether you are building a new home or renovating an existing one, the screens can be installed in every conceivable type of building.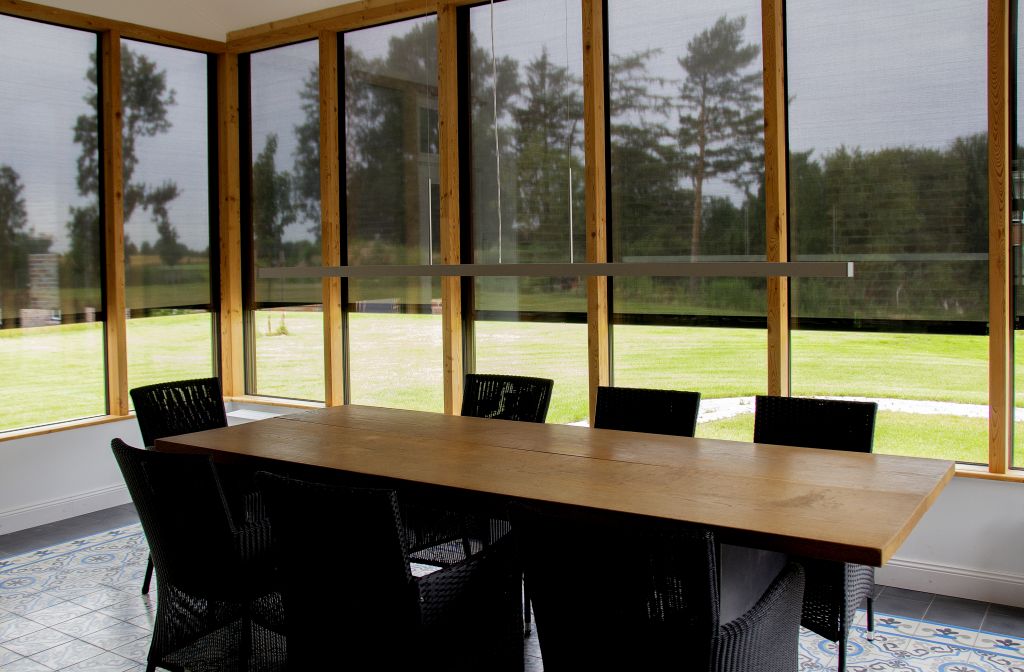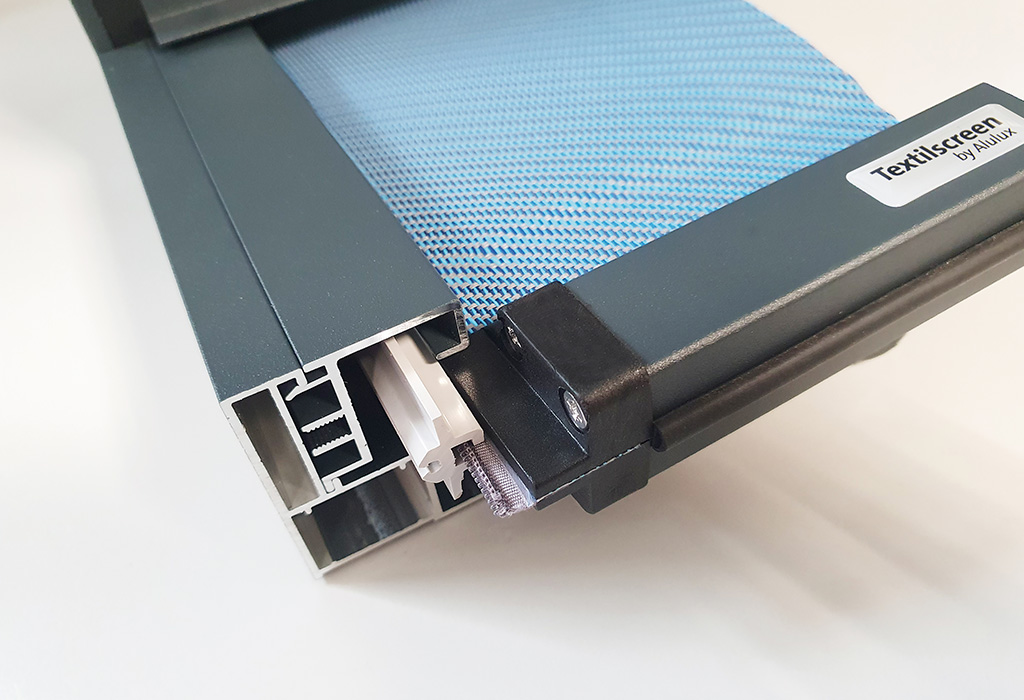 What is zip technology?
In our Alulux fabric screens, the durable material is mounted on an aluminium roller, which together with the side guide rails forms the box system. Zip elements, welded onto both sides of the screen, are mounted in a special insert inside the guide rails. Together these components enable the fabric screen to move up and down on the outside virtually noiselessly.
The zip technology keeps the screen evenly taut, but allows it a degree of mobility at the same time. As a result, the screen can withstand wind speeds of up to 145 km/h and even protect windows with very large surface areas. Large-area systems of up to 15 m² can be effectively shaded, which is an important consideration especially for expansive patios.
How convenient are zipscreens to operate?
You have a couple of options for conveniently operating our fabric screens. You can open and close zipscreens individually or in groups at the press of a button on an electronic controller mounted on an inside wall, or you can opt for total convenience with a programmable remote control. If you already have an intelligently automated smart home, your fabric screens can easily be integrated into the system.
What are the main components of a fabric screen?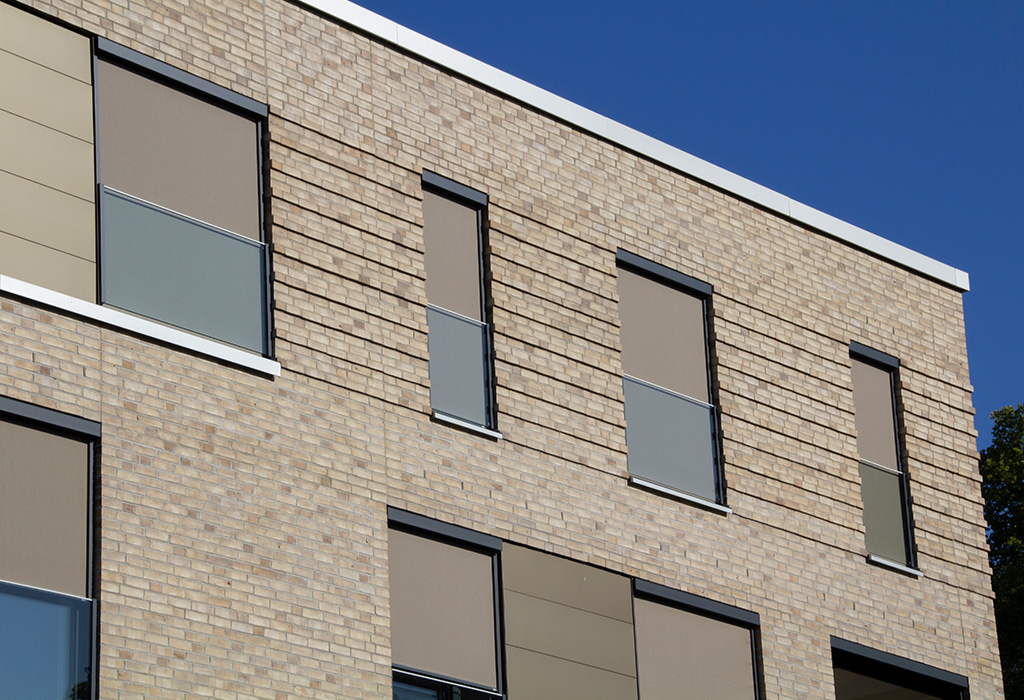 The choice of box element depends on what kind of façade you have and whether you as a homeowner want your screens to be a conspicuous design feature. The front-mounted element is suited to both new homes and renovations, and makes it very simple to mount an Alulux fabric screen on the outside. If your home is still under construction, you can have our Enext new-build box system installed under the rendered finish.

Front-mounted models
You have two options to choose from that differ only in their appearance: a square aluminium box with a 90° angle or a rounded model. Both systems are available in box sizes of 105 mm and 125 mm and can be installed both in the window recess or directly on the brickwork. It is purely a matter of taste whether the box is flush with, or protrudes from, the exterior wall.
Both versions are durable and lightweight, and they add a creative touch to your façade. They are also suitable for combining elements. In other words, several screens can be installed next to one another inside one and the same aluminium box and later operated individually as separate elements.
If you prefer a façade system that is hidden under the render, meaning totally invisible from the outside, the extruded PSG-90° box in the 125 mm size is a good choice. On request, the box can also be fabricated with a brick or wood finish. The system also is ideal for providing side shading or wind protection for patio roofs and can be equipped with an additional insect screen.
Our Enext_RG box system for new buildings offers advanced features and long-term energy efficiency. It is made from premium-quality materials and incorporates high-performance NEOPOR® insulation. In addition to zipscreens, Alulux roller shutters and Venetian blinds can also be installed in this universal system. Installation is performed as a single work step together with the windows.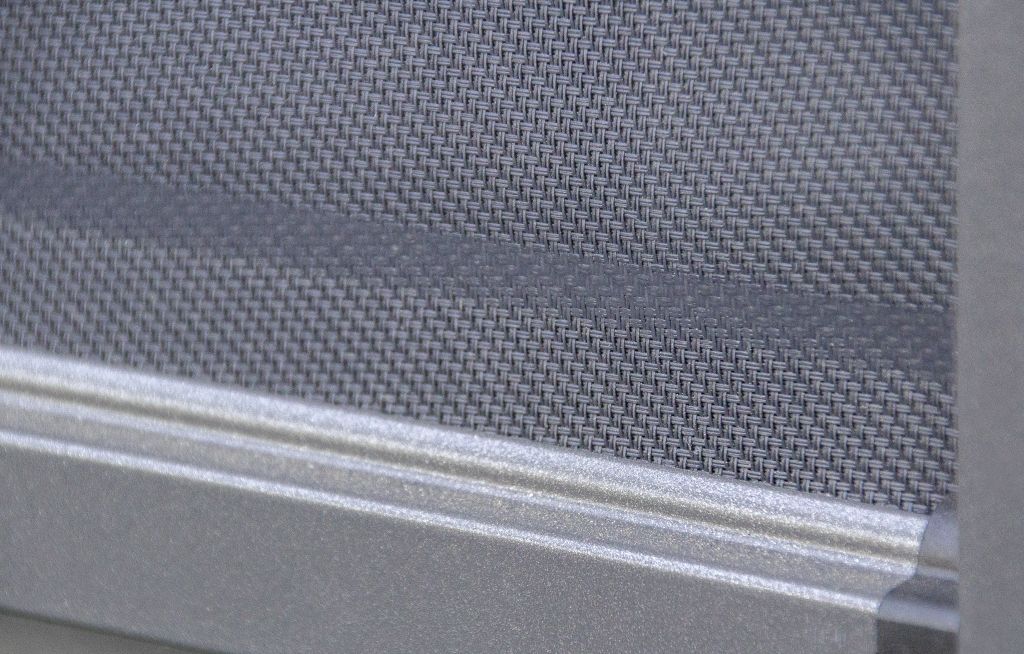 How do fabric screens perform in terms of energy efficiency?
You can significantly optimise energy utilisation in your home by installing fabric screens, because they eliminate the unpleasant greenhouse effect in summer. Conversely, the screens keep more heat inside the house when they are lowered in winter. In this case, they prevent any unwanted heat loss through the window panes and seals.
Why are fabric screens so easy to care for?
The properties of the fabric make it very robust. Its surface structure causes rain and dirty water to bead and roll off, meaning that zipscreens are self-cleaning to a great extent.
But if you want to get them really clean after some inclement weather, all you need is a soft brush and clear water. The fine perforations in the material have the practical effect of ensuring fast drying.
What are the different product types?
To perfectly meet your specific needs, we offer Alulux zipscreens with three different types of fabrics from Tibelly®: Sergé, ecole 1% and Blackout.
These three fabrics differ in terms of their transparency and fabric structure, and therefore are intended for a variety of different purposes. In addition, they come in wide range of colours and 60 different designs.
Properties of the Sergé fabric collection
The Sergé screen boasts a light and open structure. This innovative collection is woven from fibreglass and polyester threads with a premium PVC coating. That makes them extremely durable and long-lasting. The Sergé screen collection offers a wide selection of colours, meaning the screens can easily be combined with the other exterior colours of your home.
Properties of the ecole 1% fabric collection
Although the same fibreglass threads are used for the ecole 1% material as for the Sergé, the weaving technique is different. It produces a denser fabric with a more closed surface structure, which lets in about 84% less direct light.
The effect is a real advantage, for example when working on a computer screen. Fabric screens made of this fabric therefore are ideal for office buildings, schools and hospitals.
Properties of the Blackout fabric collection
The Alulux Blackout collection includes screens for completely darkening a room that likewise are made of a woven fibreglass fabric. What is unique about the method is that blackout fabrics effectively block all types of UV radiation a full 100%, meaning they can keep out every shred of light not only from bedrooms, but also theatre auditoriums or darkrooms. In addition to light, these screens also reliably shield rooms from external heat.